Mar 8, 2022 10:40 PM Central
Cherie Hunt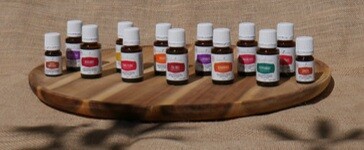 Testing the aroma of pure, potent, powerful essential oils is like a wine tasting where the first 3 steps are see, swirl and smell. You see the oil you want to test, swirl the open bottle from your waist upwards till the aroma reaches your nose and you smell by breathing normally. You will be able to distinguish the type of aroma to match the plant where the oil originated.
The first thing you learn from the oil aroma is whether or not you like it. This is important because you want your essential oil experience to be a pleasant one not something you tolerate because it's 'good for you'. You may not be able to tell if you like the smell if you take the bottle directly to your nose and take a deep breath. Chances are, this will put you off altogether.
If the oil is one you don't like, it may be an oil that could help you with something but your body is not ready for it yet. Keep testing aromas to find one you really like.
Observe any changes in your mood or how you feel when you breath the oil. See if you can feel what part of your body is affected by the oil. Take your time. You may miss out on valuable information if you move on to the next oil too quickly. Aromas stimulate your olfactory nerve which takes the information directly to your emotional brain and may trigger memories. Within 2-3 minutes components of the oil will already be in your blood. From there your body determines where they will do the most good for you right now.
If you continue to breath the same oil for a few minutes then stop, half of the oil components will leave your blood within around 20 minutes. The rest disappear over the next 2-3 hours. This knowledge helps you determine how often to apply or breath oils. If you have a problem you were too busy to address early, you will need to use the oils every 15-20 minutes. If you catch it early, every 2-3 hours should be enough.
Once you feel you have learned all you can from one oil, try another one. Make sure you like it and repeat the process. Make sure you have enough time to test a few aromas. If you are local enough, you can book a time with me to do this and your friends would be welcome to join as well. Otherwise I recommend purchasing the Essential Oils Starter Bundle with your choice of diffuser so you can do this at home. I can join you on Zoom once your bundle arrives.
Browse your starter bundles here.
For a limited time new customers can purchase a range of oils for this purpose (I'll guide you through your selection process - minimum purchase applies) and receive a FREE Lantern diffuser with lemon and lavender essential oils included.